New Bingo has started!
| Start Date | End Date |
| --- | --- |
| Tuesday July 15th, 2014 | Tuesday July 22nd, 2014 |
Note: Early Finish! Contrary to what is claimed in the modal, this round of Bingo finished early, somemtime midafternoon EST on Monday!
To play the New Bingo for July 2014, click on the Mallet, then Featured and select this Featured Graphic.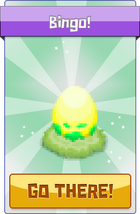 Or click on this shiny new HUD, released a couple of days after New Bingo started. 

This will lead you to three different Bingo boards. Features two brand new dinos, the Emerald Bambiraptor and the Neon Raptor ! Note, there is no challenge offered as part of this Bingo.  Play three different awesome Bingo Pattern Boards with exclusive new prizes and a price point for everyone!
Bingo Prize Table
Edit
Regular Bingo

Super Bingo

Mystery Bingo

25 Crystals per Play

49 Crystals per Play

59 Crystals per Play

PRIZES

Lava Fountain Habitat

(Not a new item)

Emerald Bambiraptor

Room for 3 Dinos 

Footprint: [7, 7]

Biome: Jungle or 

Forest, Tier 2

Biome: Primordia or

Forest, Tier 3

Capacity: 2,500 Coins 
Once you complete the four prize squares for Mystery Bingo, pop open the Dino Den to collect your newly-delivered Neon Raptor egg. Or, if you complete the five squares for the Emerald Bambiraptor first, go get him instead! 
Prize Notification Snapshots
| Carrot House | Vegetable Patch Habitat | Nuralagus Egg |
| --- | --- | --- |
| | | |
Bingo Boards
Edit
Here are some sample Bingo Boards. The design of the Super Bingo Boards and the Mystery Bingo Boards are the same for all players, but some of the prizes are still determined randomly for each board. 
| Super Board | Mystery Board |
| --- | --- |
| | |
| Pattern: 5 Blue Squares | Pattern: 4 Blue Squares |

However, there are a near-infinite number of Regular Bingo Boards. Here are a few from various players. 
The patternrequires 9 tiles. 
| Regular Board 1 | Regular Board 2 |
| --- | --- |
| | > > Add when ready |
Ad blocker interference detected!
Wikia is a free-to-use site that makes money from advertising. We have a modified experience for viewers using ad blockers

Wikia is not accessible if you've made further modifications. Remove the custom ad blocker rule(s) and the page will load as expected.