A new dino, the Blarney Bronto has just been spotted wearing a forest green Irish hat with gold buckle, and a matching shamrock-themed bowtie. This golden dino with green ridge patches and a chartreuse belly was introduced Wednesday March 13th just in time for Saint Patrick's Day. 
Below, we see a beautiful Dino-Diorama featuring a family of these handsome sharp-dressed Blarney Brontos. Some humans are lucky enough to be born with a silver spoon in their mouths, but these dinos are literally born with a pot of gold in their nest egg!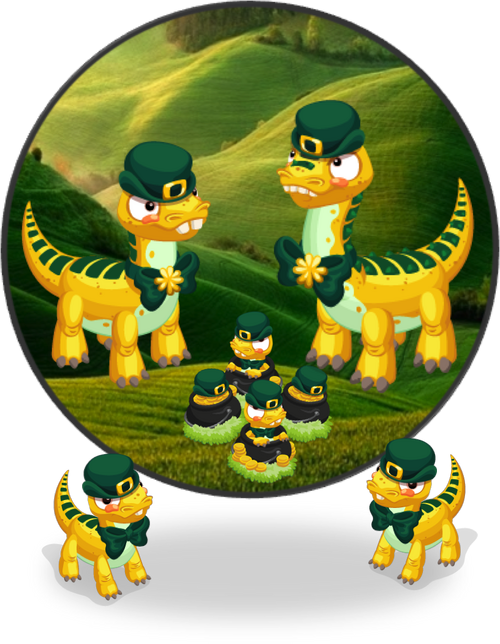 Dino-Diorama featuring a family of Blarney Brontos
All these dino-dioramas will eventually be housed in the Museum of Dinosaurs, Beasts and Chimera once the renovations there are complete. 
Life Stats for the Blarney Bronto

Species Name: Blarneybronto

Common Name: Blarney Bronto


BiomeID:  Jungle Forest-2       Tier: 2

Rarity Group:  Shiny

Probability: 0, Sorry, no random eggs or HH method. 


Hatch Time: 12 hours, Hurry Hatch: 17 crystals


Cost: 249 Crystals


Descriptions: [ 

"Loves to play cards", 
                "The ladies love him", 
                "Best friends with the Lucky Mammoth"]




That is one fashion conscious bronto. Not everyone can wear a bowtie, but the ladies love him!

Professor OneStone
Here are some additional snapshots in various life stages, from egg, to baby, then toddler and teen. 

Dinos Featured in the Saint Patrick's Day Theme
Ad blocker interference detected!
Wikia is a free-to-use site that makes money from advertising. We have a modified experience for viewers using ad blockers

Wikia is not accessible if you've made further modifications. Remove the custom ad blocker rule(s) and the page will load as expected.