Get up to 50% off with these incredible Booster Packs. 
Start Date
End Date

Wednesday, August 28th 2013

~ 9PM EST

Tuesday September 3rd 2013

~ 6PM PDT

Introductory Modal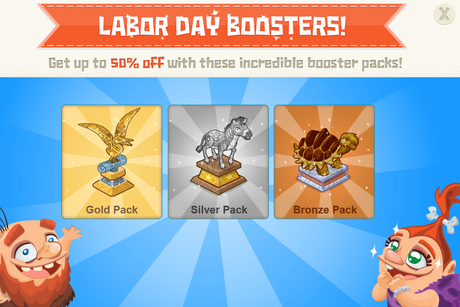 2013 Modal for Labor Day Boosters
New modal design is almost the same as last year. The only changes from the 2012 Modal are variations in the background colors (now gold, silver and bronze instead of all yellow) and the dropping of the word new in the phrase "new booster packs".  
Older 2012 Modal for Labor Day Boosters
To purchase a Labor Day Booster Pack, click on the Booster HUD or tap the Mallet, select Featured and then tap the Booster icon.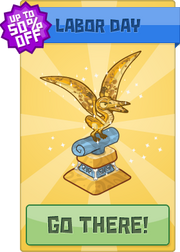 Contents of the Booster Packs
Edit
It appears the Labor Day 2013 Booster Packs will not introduce a new dino after all. Dinos: Gold Pack features a Triceratops, Silver Pack features a Kentrosaurus.  Aacckk - no new dinos!
Gold Pack
Silver 

Pack

Bronze 

Pack

450 Crystals
100 Crystals
50 Crystals
Triceratops
Kentrosaurus
1000 Coins
Gold Nemicolopterus Statue
Silver Mesohippus Statue
Bronze Turtle Statue

Therapeutic Taiga

Cost: $34.99

but was $69.99

Desert Dreamland

Cost: $14.99

but was $29.99

Friendly Forest

Cost: $6.99

but was $11.99
Ad blocker interference detected!
Wikia is a free-to-use site that makes money from advertising. We have a modified experience for viewers using ad blockers

Wikia is not accessible if you've made further modifications. Remove the custom ad blocker rule(s) and the page will load as expected.