Introducing the beautiful Rainbow Dragon!
Found exclusively in the Ruby Pack from the new Chromatic Booster Packs!
| Start Date | End Date |
| --- | --- |
| Wednesday September 25th, 2013 | Tuesday October 1st, 2013 |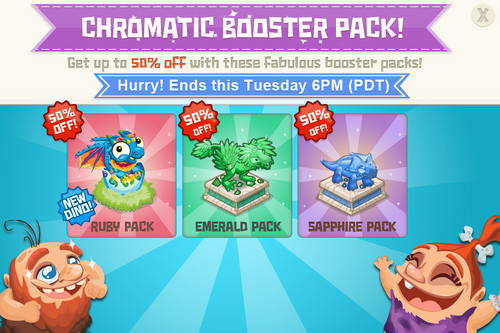 To purchase, click on the in-app HUD shown above or select the Mallet and then under the Featured options select the Booster Pack with the colorful dino shown below.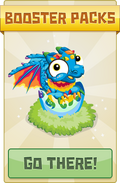 Featured items include two dinos- the Rainbow Dragon and the Corythosaurus, as well as three dino statues - the Ruby Raptor, the Emerald Bambiraptor and the Sapphire Protoceratops. In addition to these awesome offers, the booster packs include cool habitats like the fan-favorite Calming Cloud, Desert Dreamland, and the fiery Volcanic Vista.
Ruby Pack

Emerald Pack

Sapphire Pack
Dino

No DIno

but 1000 Coins instead. 

Crystals

750 crystals 

220 crystals

75 crystals
Statue

Ruby Raptor

Emerald Bambiraptor

Sapphire Protoceratops
Habitat

Calming Cloud

Desert Dreamland

Volcanic Vista

Cost
$34.99
$14.99
$6.99

It is likely that the Corythosaurus was retired earlier, to make it a more desirable booster pack item. Same for the Homalocephale. 
Challenges
Edit
To sweeten the deal, each purchase is awarded additional bonus crystals that  depend on your level and purchase history. 
Goal Icon
Chromatic Booster!

If you go for the first challenge, you will be presented with an even sweeter offer to encourage a second purchase. 

On my newer village, the first offer is buy a Silver Pack and get an additional 200 FREE Crystals!

Typo: Guess it means Emerald pack!

On my old village, the first offer is an extra 400 crystals for buying the Ruby pack. 
Ad blocker interference detected!
Wikia is a free-to-use site that makes money from advertising. We have a modified experience for viewers using ad blockers

Wikia is not accessible if you've made further modifications. Remove the custom ad blocker rule(s) and the page will load as expected.