What mantel would be complete without these gorgeous crystal timepieces? 
Crystal Clock
Crystal Timekeeper

Production: Produces 1 crystal every 7 hours for 70 days. 

Cost: 159 crystals

Limit: 2

Size: [3,3] 

12 Hrs Build 

15 Hurry Finish

Production: Produces 2 crystals every 11 hours for 210 days. 

Cost: 299 crystals

Limit: 4

Size: [3,3] 

12 Hrs Build 

15 Hurry Finish
| | Production End Date |
| --- | --- |
| Crystal Clock | November 5, 2013 |
| Crystal Timekeeper | Still Producing! |
Challenges: For high-level players. 
Goal Icon
Tick Tock! (1 & 2)

1. Build 1 crystal timekeeper and receive 23 crystals

+ 400 XP. 

2. Build 1 more crystal timekeeper and receive 30 crystals

+ 400 XP. 

Total crystal reward is 53 crystals. 
For low-level players, the Tick-Tock challenge has three steps.
Step 1, get back 16 crystals and 400XP for building 1 Crystal Clock. 
Crystal Clock and Crystal Timekeeper: Introduced: June 6th, 2013

Thumbnails?
Curiously, the above images, labelled as the thumbnails, are actually larger than the regular images. For example, the "thumbnail" for the timekeeper is fully 37KB while the regular image is only 26KB. These two images may well have been reversed. Not sure if that will create any bugs or not. I guess only time will tell.
And yeah, it's OK to groan. 
Strangely, the regular images, shown below, are smaller than the above files, which are labelled as the thumbnails.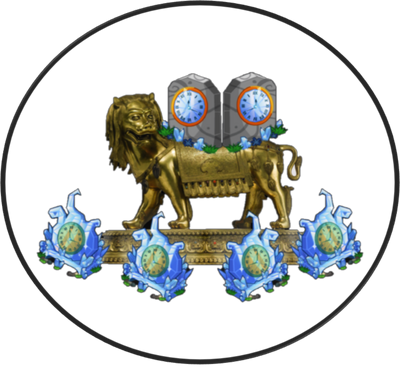 Time Collages: Just havin' fun. 
Ad blocker interference detected!
Wikia is a free-to-use site that makes money from advertising. We have a modified experience for viewers using ad blockers

Wikia is not accessible if you've made further modifications. Remove the custom ad blocker rule(s) and the page will load as expected.