This page will monitor all Dragon Sales. 
Current or Upcoming Dragon Sales Events
Edit
Thanksgiving Day Only!
| Start Date | End Date |
| --- | --- |
| Very soon.  | Thursday November 28th, 2013 |
Expired Dragon Sales
Edit
EXPIRED:  Labor Day 2013 Dragon Sales
This Labor Day Dragon Sales event was the first time Dragons were offered for sale using crystals in the DinoDen. 
| Starting Date of Sale | End Date | Status |
| --- | --- | --- |
| Saturday August 31st, 2013 | Wednesday September 4th, 2013 | In Progress |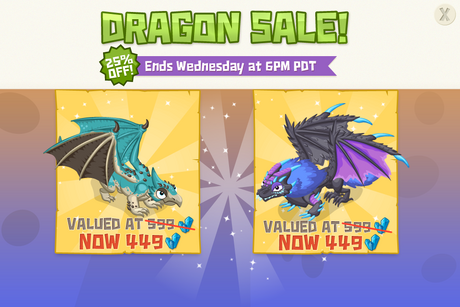 Discount: Each dragon is marked down 25% for a total reduction of 150 crystals. Yippee!
During this sale, the two featured dragons, the Sky Dragon and the Shadow Dragon appear at the front of the dino queue in the Dino Den. Awesome, this marks the first time any dragon can simply be purchased in the DinoDen!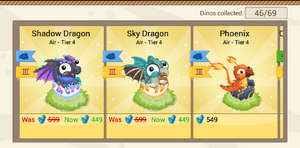 Ad blocker interference detected!
Wikia is a free-to-use site that makes money from advertising. We have a modified experience for viewers using ad blockers

Wikia is not accessible if you've made further modifications. Remove the custom ad blocker rule(s) and the page will load as expected.