We are not sure if Holiday Week is starting early, or if this is just a temporary vehicle to release the two Hanukkah Items. In 2013, the Holiday Week featured graphic appeared early Wednesday December 4th, with just the two Hanikkah Items for new villages, but with many of the old Holiday items showing if you already have them in inventory.  To access the holiday items, click the Mallet, then choose Featured and the following featured graphic.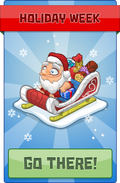 Decorations
Edit
For new villages, the first day offered only these two Hanukkah items. 
Item
Great Dreidel
Menorah
Image

x
x
x

Size

[3, 3]

[3, 3]

Cost

2750 Coins
3800 Coins
Reward
18 Coins / 5 Hours

33 Coins / 7 Hours

Build

15 minutes or

Hurry for 1 Crystal

30 minutes or

Hurry for 1 Crystal
Note: The Menorah now builds in only 30 minutes instead of 12 hours. Nice!
Ad blocker interference detected!
Wikia is a free-to-use site that makes money from advertising. We have a modified experience for viewers using ad blockers

Wikia is not accessible if you've made further modifications. Remove the custom ad blocker rule(s) and the page will load as expected.