Information
Edit
Introductory Modal
| Start Date | End Date |
| --- | --- |
| Tuesday November 26th, 2013 | Tuesday December 3rd at 6PM PST |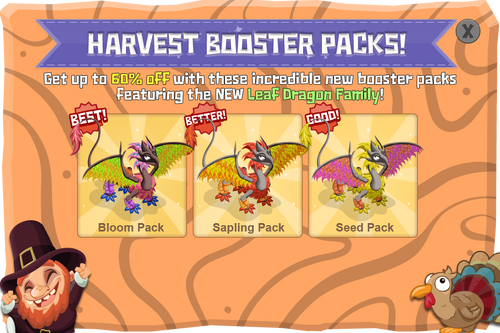 To purchase a Harvest Booster Pack featuring any one of the three Leaf Dragons, click on the Booster HU​D 

or tap the Mallet, select Featured and then tap the Booster icon to select the Leaf Dragon Family.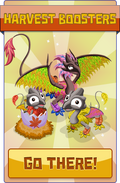 Contents of the Booster Packs
Edit
Featured items include … 
Pack
Bloom Pack
Sapling 

Pack

Seed 

Pack

Image

Dino

Fall Leaf Dragon

Red Leaf Dragon

Yellow Leaf Dragon

Crystals
750 Crystals
220 Crystals
75 Crystals
Statue

Volcanic Rock Phoenix

Cliffrock Oviraptor

Bedrock Brontornis

Habitat

or deco

Tropical Island
Tranquil  Tundra

No Habitat!

Minibot 2 instead

Cost

$34.99

$14.99

$6.99
Ad blocker interference detected!
Wikia is a free-to-use site that makes money from advertising. We have a modified experience for viewers using ad blockers

Wikia is not accessible if you've made further modifications. Remove the custom ad blocker rule(s) and the page will load as expected.