The Lunar Dragon was first introduced as the grand prize on the Mystery Board for Lunar Bingo in June 2014. 
Adult Lunar Dragon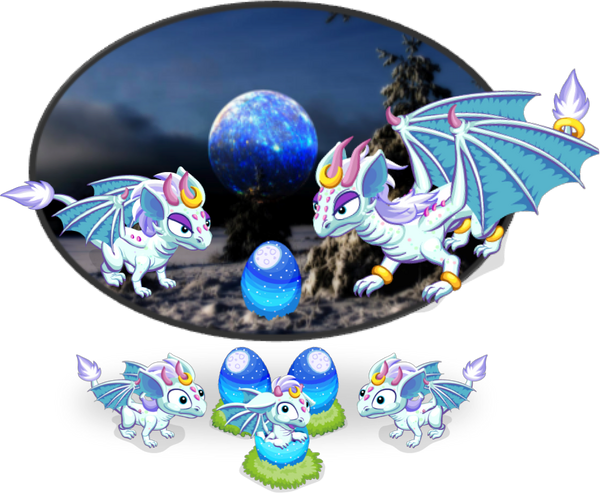 Dino-Diorama featuring a Lunar Dragon Family
Life BioStats
Edit
Life Stats for the Lunar Dragon

Species Name: LunarDragon 

Common Name: Lunar Dragon 

BiomeID: Cloud;        Tier: Air Tier 3, But description says 4. 

Rarity Group: Super Shiny

Probability: 0, Sorry cannot be obtained from a random egg.

Hatch Time: 16 hours, Hurry Hatch: 10 crystals

Cost: x Crystals / Value of lunardragoncost

Descriptions: 

  1. 

Loves the dark side of the moon!



  2. Is alergic to moon dust! (files have a typo in allergic)

  3. Loves moon pies!


These lunar dragon pups are real lunatics!

Professor OneStone
Life Stages

Edit
Here are some additional snapshots in various life stages, from egg, to baby, then toddler and teen. 
The deep-blue egg features a lighter-blue crescent moon near the bottom and a relection of the full moon (with craters) on the top. The egg appears speckled with stars. 
Ad blocker interference detected!
Wikia is a free-to-use site that makes money from advertising. We have a modified experience for viewers using ad blockers

Wikia is not accessible if you've made further modifications. Remove the custom ad blocker rule(s) and the page will load as expected.