IntroductionEdit
A new Lion-Themed Mini-Treasures!  Introducing Proud Mini-Treasures
| Start Date | End Date |
| --- | --- |
| Tuesday September 17th, 2013 | Sunday September 22nd, 2013 |

Each play costs 69 crystals. Started late evening on Tuesday EST. 
Here is V2 of the modal. 
And here is V3 of the modal, which was pumped out about 24 hours into the event. That Lion has appreciated!
Probabilities: There are three possible prizes. You have a 10% chance to win the Crystal Lion. There is a 60% chance to win the Lion Den House and only a 30% chance to win the booby prize, the Leo 's Brazier.
1. Top Prize: Leo Statue - yes it produces crystals!
Priced in the game files at 149, but worth over 200 crystals.
Name: Crystal Leo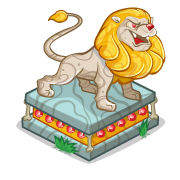 Footprint: [3,3]
Limit: NONE! Grab as many as you can! 
Tax:  1 Crystal / 7 Hours for 58 days. 
Appearance: Awesome lion statue carved with stone body and gold mane and tail tip. Eyes and nose composed of polished ruby crystals.
Base: Square stone top above similar stone bottom and supported by dinosaur bones.  Middle gold square decorated with row of rubies. 
2. Second Prize: Lion Den House
| Item | Lion Den House |
| --- | --- |
| Image | Houses 3 Villagers |
| Footprint | [3, 3] |
| Worth | 129 Crystals |
| Tax | 350 Coins / 4 Hours |

3. Third Prize: Leo's Brazier
Alert: This is a very tiny deco, much smaller than the image below.
| Item | Leo's Brazier |
| --- | --- |
| Image | |
| Footprint | [1, 1] |
| Worth | 99 Crystals |
| Tax | 800 coins / 8 hours |
How to Play
Edit
To play, either click on the modal at startup, or click the Mini-Treasures HUD that appears on the right of your screen.

Alert: This round, the entire game can be played in Safe Mode. There is no server check. Nice!
Step 1. Click the Proud Mini-Game button to see the the three exclusive prizes offered in this Mini-Game. 
Step 2. Click the "Play Here" button, then select one of three gift-wrapped boxes. It really does not matter! Which prize you will get is a mystery! You need not be connected at this stage - unlike previous mini-games. There is no server check this time and no annoying spinning blue arrow! Awesome!
Select one of the three boxes. It does not matter which. 
Step 3. Each play costs 69 crystals! Once you press the Confirm Button shown below, those precious crystals are gone! You need not be connected to press this button, but unless your connection is reestablished shortly, your game will not be saved and your prize will be lost. 
After you press the confirm button, you will see a prize notification similar to the screenshots below. The prize will appear in your inventory. The Lion Den House will appear under the Buildings option, but the other two prizes are Decorations. 
Prize Notification Snaps
You won the Leo Brazier! (That's the booby prize, sorry.)
You won the Lion Den House! That is a pretty good prize. Congrats!
You won the Crystal Leo! Awesome! That's the grand prize. 
Best Strategy: A smart player will collect as many Crystal Lions as they can - using Safe Mode to score each for just 69 crystals. There is no limit, so stock up! I plan to get a few every day until this awesome Mini-Game is over. Rawr!
Ad blocker interference detected!
Wikia is a free-to-use site that makes money from advertising. We have a modified experience for viewers using ad blockers

Wikia is not accessible if you've made further modifications. Remove the custom ad blocker rule(s) and the page will load as expected.