Treasure Hunt 2013 has started!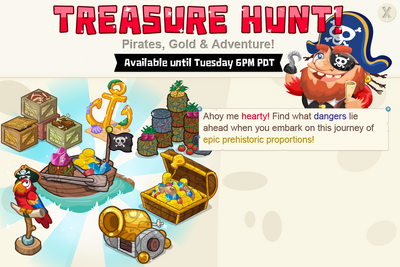 | | |
| --- | --- |
| Challenges: Ahoy Matey! (in Six Steps) | |
Each step earns 400 Gold COins and 400 XP, except the last where you earn 5 crystals!
1. Build two Pirate Flags!
2. Build 1 anchor and 1 Cannon
3. Build 1 Veggies Cargo and 1 Meat Cargo. 
4. Build 1 Ye Ol' Store
5. Complete 1 Hook Hand and 1 Peg Leg Recipe
6. Build 1 Row Boat.
Goals complete! Well done matey!

Here be your 5 crystals!
Premium Items
Edit
What village would be complete without this awesome pirate's Treasure Ship?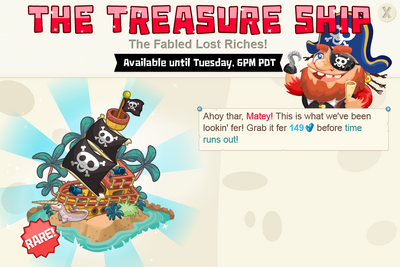 Ad blocker interference detected!
Wikia is a free-to-use site that makes money from advertising. We have a modified experience for viewers using ad blockers

Wikia is not accessible if you've made further modifications. Remove the custom ad blocker rule(s) and the page will load as expected.